Fiber Optic Components
Collimator Array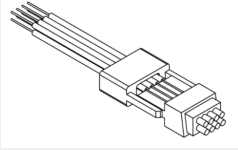 Collimator Array integrates the function of fiber array and collimator. It is used to collimate multi-channel diverging light into parallel-beam, with highly accurate spacing.
Fiberwe manufactures high performance 1D (1x4, 1x8, 1x16, ...) and 2D (2x2, 2x4, 2x8, ...) array fiber collimators with sub-micron fiber spacing accuracy and uniform fiber core center line.
We can manufacture our Collimator Array with various types of fiber, such as SMF, MMF, PMF, and specialty fiber like non-fluorescent, UV fibers, and Mid-IR fibers etc.
Application
ROADM
OXC
WSS
Array Switch
Features
Low Insertion Loss
High Return Loss
High parallel of collimated light beams
High accuracy of Spacing
Specifications
Further Information

Collimator Array