Fiber Optic Components
Sleeve
Zirconia Sleeve
Ceramic Sleeve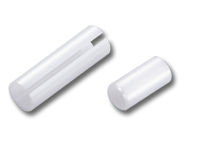 Zirconia sleeves are mostly used in adapters for the main purpose of connecting and aligning two inserted zirconia ferrules together. There are two kinds of zirconia sleeves; split sleeves and solid sleeves. Different sleeves can be manufactured in accordance to your application needs.
Zirconia sleeves are categorized into two types used for ferrule outer diameters of φ2.5mm and φ1.25mm. These are used for connecting and aligning ferrules used with ST, FC, SC, MU and LC Connectors.
Sleeve
We can manufacture our sleeves to custom configurations and requirements to meet your application needs.