Fiber Optic Components
Optical Patch Cord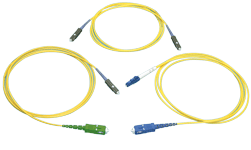 Our optical patch cord assemblies consist of optical fiber terminated with various types of fiber optic connectors such as the FC, SC, MU and LC Connector Types. Our polishing process can ensure certain optical properties with a low Insertion Loss and Return Loss.
All of our patch cord assemblies are composed of our top quality Zirconia Ferrules and Connector Housings ensuring a stable performance at a high quality level. Our patch cord assemblies can be delivered within a short lead time with the lowest prices available.
Custom assemblies are also available upon your request. We can also terminate connectors on Polarization Maintaining Fibers and Plastic Fibers.

Further Information

Optical Patch Cord