Fiber Optic Components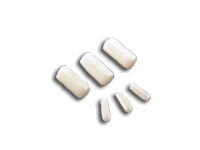 Fiber Stub
Fiber Stubs are the most important components when connecting Receptacle Module such as TOSAs and ROSAs Assemblies. The Fiber Stubs are press fitted into the Receptacle Module and a stable connection is guaranteed with the Fiber Stub and Optical Connectors when mated in the receptacle.
Our Fiber Stubs are typically custom made parts depending on the end user's design but our standard fiber stub length is 4.05mm for an OD of φ2.5mm and a length of 2.95mm for an OD of φ1.25mm.
We can provide various Optical Fiber Clad Diameters in addition to the standard SM (Singlemode), MM (Multimode), and PM (Polarization Maintaining) Fibers. We can also offer contract manufacturing services of custom configurations and designs with different lengths, ODs and polish angles. We can also accommodate AR (Anti Reflection) Coating on the fiber stub.