Fiber Optic Components
Optical Fiber Array
Fiber Optic Array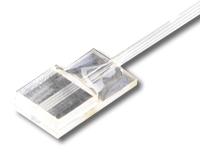 Fiber Optic Arrays are Device that connect Optical Fibers to Optical Waveguide Device which are necessary for WDM (Wavelength Division Multiplexing) Applications. These products position the optical cores accurately within V-Groove Blocks by a Micro Fabrication Technique. The process requires accuracy on a submicron level in order to reduce the connection loss.
Simplex, duplex, 4, 8, 16, and 32 channel configurations are available. We can terminate the Fiber Arrays with various types of Optical Connectors and they can be assembled by using either standard or specialized fiber cables including polarized-maintaining fibers.
Fiberwe developed original designed Optical Lead Frame, called OPLEAF.
OPLEAF is high density Fiber Array device featured reliable accurate narrow pitch, and enables direct coupling with Si Circuit, multiple fibers and PD waveguide.

Applications
Arrayed-Wavelength Gratings
Arrayed-Wavelength Gratings
Collimator Arrays
Collimator Arrays
Optical Switches
Materials
Silicon
Pyrex
Silica Glass
Zirconia
Further Information

Optical Fiber Array